by Connor Darrell CFA, Assistant Vice President – Head of Investments
It was a strong bounce back week for equity markets, with the S&P 500 producing its largest weekly gain since December of 2011. Markets rallied strongly on Wednesday following comments made by Fed Chairman Jerome Powell in which he seemed to infer that the federal funds rate is much closer to the Fed's target than was previously thought. Markets were also bolstered by strong online sales sentiment from the Black Friday shopping period and optimism that the G-20 summit would provide an opportunity for progress toward a trade deal with China.
On a far more somber note, both the NYSE and NASDAQ stock exchanges have announced that they will be closed on Wednesday December 5th to mourn the loss of President George H.W. Bush. Traditionally, the NYSE and NASDAQ stock markets have both closed for a day of national mourning following the death of a former president. The last such closure occurred on January 2, 2007, following the passing of former president Gerald Ford.
The Importance of Remaining Invested
After a smooth 2017 where S&P 500 returns were positive every single month of the year (the first time this has occurred since the index was formed), the U.S. equity market has experienced two separate corrections in 2018. Corrections are a normal market phenomenon but can be a very stressful time for investors. It is human nature to feel the need to "do something" during periods of market volatility, but the data suggests that the impacts can be significant.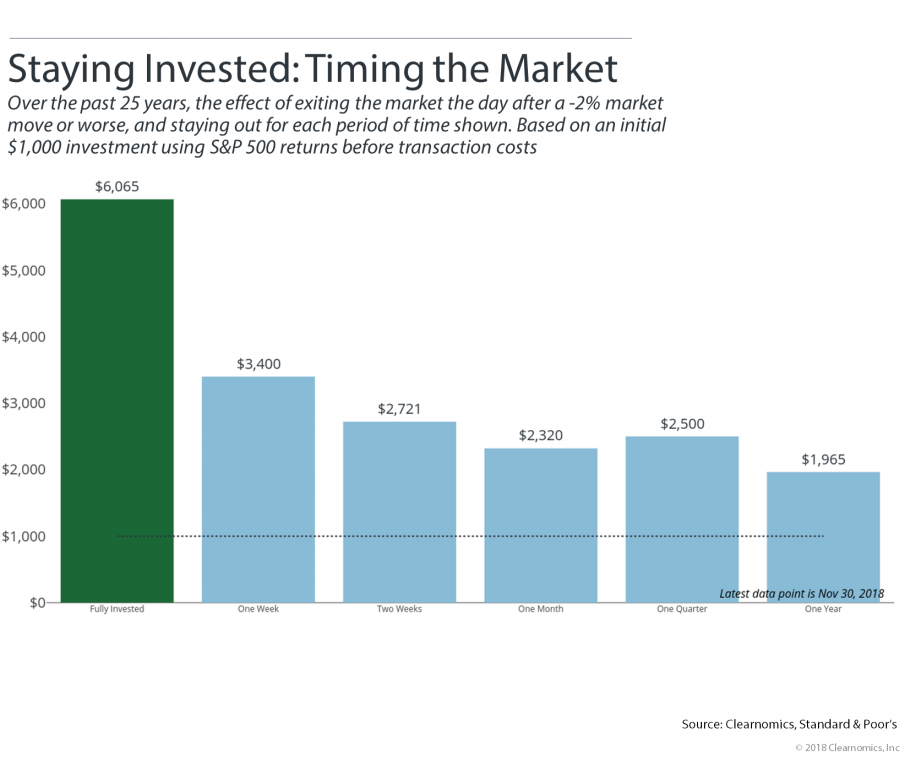 The chart here shows the impact of exiting the market immediately following a -2% market move or worse, and the effect of remaining uninvested for a variety of time periods. The data is based upon the past 25 years of S&P 500 returns.
When we attempt to time the markets to protect gains or avoid losses, it can be easy to forget that we technically have to get that timing decision correct two separate times (once to get out, and once to get back in again). The evidence suggesting that this is a risky endeavor is overwhelming, and it can cause us to miss out on opportunities to grow and compound our wealth. The S&P 500 returned almost 5% last week, further reiterating the importance of staying invested. Any investors who sold their equities during the November selloff would have missed out on last week's rebound and would now face a difficult decision about when to get back in.