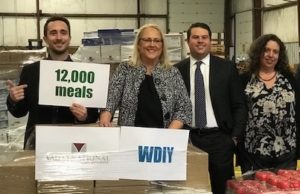 Valley National is pleased to again partner with WDIY and Second Harvest Food Bank to help feed those in need throughout the Lehigh Valley.
During the WDIY Fall Pledge Drive – which kicks off on October 8 – every $100 donated to support WDIY will trigger an automatic contribution by VNFA directly to Second Harvest to pay for 21 meals. Last year, this partnership resulted in a donation to fund 12,000 meals!
Listen in at WDIY 88.1 FM on Thursday, October 11 at 6 p.m. to hear our CEO Matt Petrozelli discuss the partnership on a special edition of Lehigh Valley Discourse.
Visit www.theweeklycommentary.com for more posts in this category. DISCLOSURES