Meet our tax season interns!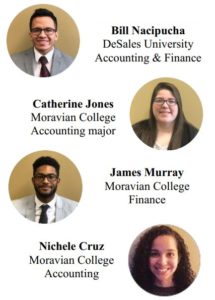 They will be assisting our tax preparation team with document intake and digital set up as well as providing support on special projects.
All four students were selected for Valley National's tax season internship program, which is in its fifth year. The program is designed to provide real-world experience for individuals interested in a career that may include tax planning. Tax interns are exposed
to and participate in every part of the process, working alongside seasoned CPAs and financial planners in a professional office environment.
Interns from past years have gone on to have successful careers in a variety of different fields, including finance & accounting – most notably, our own Brinda Vyas, Junior Accountant at Valley National Financial Advisors joined the team after her internship and subsequent graduation from DeSales University in 2016.