All major market indices traded higher last week as weaker-than-expected inflation data ramped up hopes by investors that the Fed's Federal Open Market Committee would only raise the central bank's key lending rate by just 0.25% rather than 0.50% or 0.75% that previous markets were predicting. The Dow Jones Industrial Average rose +2.0%, the S&P 500 Index rose +2.7%, and the tech-heavy NASDAQ rose by +4.8%. (See additional specific returns below.)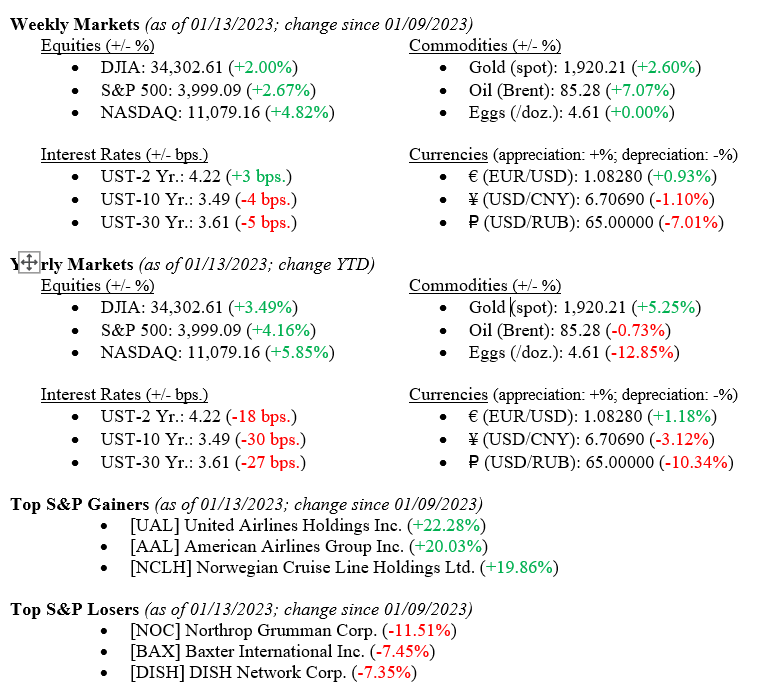 The hopes for a slower pace of rate increases came as data showed the U.S. consumer price index rose 6.5% year over year in December, paring from a year-over-year increase of 7.1% in November and a peak increase of 9.1% in June. The core U.S. consumer price index, which excludes food and energy prices, rose 5.7% year over year in December, down from a 6% increase in November.
Several major banks, including JP Morgan Chase, continue to beat the drum for a recession in 2023, while other major investment banks, such as Goldman Sachs, are not calling for a recession in 2023. We at VNFA continue to believe that the economy, consumers, banks, and corporations exhibit growth, balance sheet strength, and earnings growth, but admittedly, slower earnings growth. Lastly, labor continues to show near-record strength, with the unemployment rate hitting 3.5%, a 40-year low.  
What to Watch
U.S. Producer Price Index Year over Year for December 2022, released 1/18/2023, (Prior 6.25%)
U.S. Housing Starts for December 2022, released 1/19/2023, (Prior 1.427M)
U.S. Job Openings: Total Nonfarm for December 2022, released 1/20/21, (Prior 10.46M)
The Q4 earnings reporting season will also move into full swing this week, and earnings are a good predictor of growth in 2023. Companies expected to release quarterly results next week include Morgan Stanley (MS), Goldman Sachs (GS), United Airlines (UAL), Charles Schwab (SCHW), Alcoa (AA), Procter & Gamble (PG), Netflix (NFLX), and Schlumberger (SLB). These firms are a good indicator of future market expectations and represent a wide dispersion across industrial and banking sectors.