Market volatility continued last week as uncertainty around the Federal Reserve weighed heavily on investors. As was widely expected, the Fed raised interest rates by 75bps, bringing its target rate to 3.00-3.25%, while also adding language suggesting that further rate hikes are likely. As we implied last week, market movements are becoming increasingly tied to Fed decisions. However, it is important to remember that the Fed is only able to influence the relative movements in markets that are short-term, while long-term investors can capitalize on these down markets. Just to reiterate our point: this is an opportunity for wealth creation, not something to be afraid of as a long-term individual investor.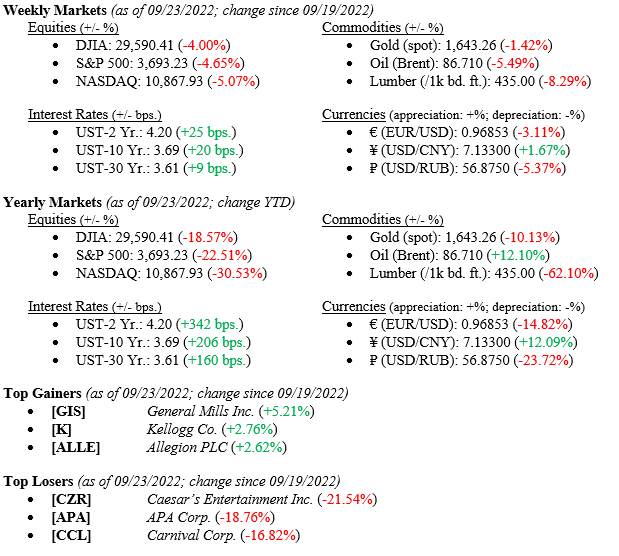 Global Economy
The Federal Reserve raised rates by 75 basis points on Wednesday, its third consecutive 0.75% rate hike this year. However, rate hikes are persistent across the globe to combat inflation, which is ringing in at 9.2% annually within the G20 countries. It is important to remember that inflation is not caused solely by policy within any given country due to increased globalization. Chart 1 below shows central banks' rate paths over the prior three years. The Federal Reserve has indicated that it will raise rates by 1.00% to 1.25% over its next two meetings.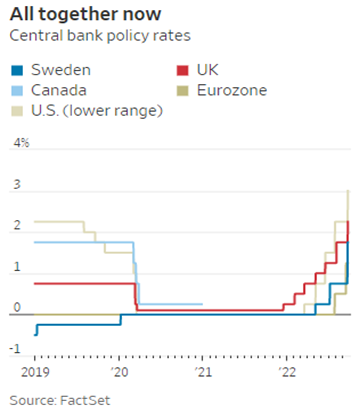 The U.S. housing market fell for the seventh straight month in August as mortgage rates hit new averages above 6% for the first time since 2008. Thirty-year mortgage rates a year ago were 2.86%. Sales of previously owned homes fell 0.4% in August to a rate of 4.8 million. (See Chart 2 below) Year-over-year, sales fell 19.9%. Home sales data tends to be lagged due to the length of the home-buying process — meaning that home purchases in August really reflect mortgage approvals from earlier in the summer when rates were modestly lower. We will not see the effects of these new highs in mortgage rates until closer to the end of the year.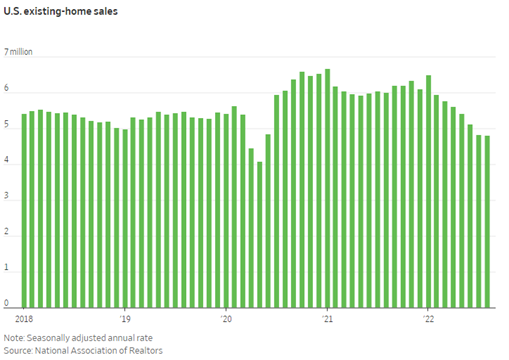 What to Watch
Avg. U.S. Retail Gas Price figures to be released Monday, Sept. 26th at 4:30 PM EST.
Case-Shiller Home Price Index data to be released Tuesday, Sept. 27th at 9:00 AM EST.
U.S. Crude Oil Stocks week-over-week figures to be released Wednesday, Sept. 28th at 10:30 AM EST.
30-Year Mortgage Rate data to be released Thursday, Sept. 29th at 10:00 AM EST.
U.S. Core PCE (Personal Consumption Expenditures) Price Index month-over-month figures to be released Friday, Sept. 30th at 8:30 AM EST.