Your Valley National eVault Client Portal? There's an APP for that!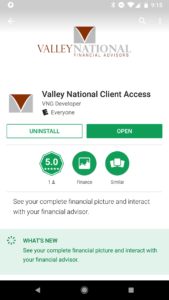 Introducing the Valley National Client Access APP available for free download on Apple and Android devices. The APP allows you to access and view your eVault Client Portal with the same login you have been using on your computer.
APP ACCESS DETAILS
Devices must have at least iOS 10.0 or Android 6.0 operating systems.
Search Valley National Client Access in the App Store or Google Play Store.
Click the icon after download to open the login screen.
We have created an accompanying video tour explaining the basic functions and features. WATCH THE VIDEO HERE.
If you do not have a personal portal set up, please inquire with your service team.
Visit www.theweeklycommentary.com for more posts in this category. DISCLOSURES