Today we revealed our Just Press Pause room to the teaching staff at Paxinosa Elementary. The renovation was our VNFA team's Volunteer Challenge project.
The school provided a classroom that remained under lock and key to maintain the gift as a surprise to teachers. Over about 10 weeks, our volunteers created plans, purchased items and visited the school to install everything. Thank you to Mission Plant Company for partnering with us to create the beautiful plantscape in the room, and a very special thank you to our Communities in Schools dynamic duo (Jeanine and Zenaida) and, of course, Principal Jones.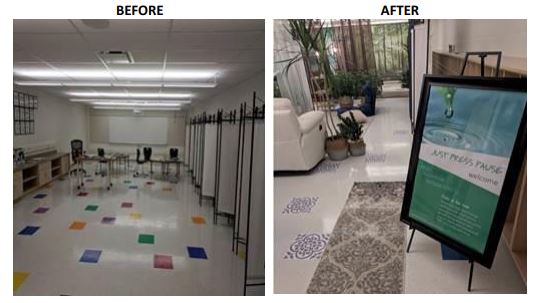 The Volunteer Challenge is an event for the Volunteer Center of the Lehigh Valley that connects the nonprofit and business communities through partnership on a special project. Each "team" is entered into a competition in the category of small, medium or large companies in which the public votes for the best project in each group. The paid votes serve as a fundraiser for the Volunteer Center. The competition culminates in an event where teams showcase their project story with their nonprofit partners. The event is open to the public and tickets can be purchased online at volunteerlv.org. Celebrating its 10th year, the Volunteer Challenge has impacted 93 community organizations with more than 150 projects completed by 64 Lehigh Valley companies.
Valley National's team has competed for the past four years, completing projects for Third Street Alliance for Women & Children, Cancer Support Community of the Lehigh Valley, Second Harvest Food Bank, and now Paxinosa Elementary.
Voting opens Wednesday, April 24 for the projects – VNFA is listed among the "medium" companies. Votes are $5 each and all proceeds go to funding Volunteer Center projects. Visit volunteerlv.org to vote and for more details.