We welcome Lorin Ross to the VNFA Team! Lorin joined us in the full-time position of Finance Associate. She has seven years of experience in operational and technical accounting.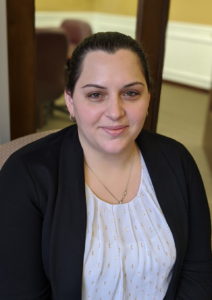 Lorin will work out of VNFA's Bethlehem headquarters as part of the internal finance and accounting department under the supervision of Elizabeth Wilson, CPA who has been promoted to Chief Financial Officer. She will manage all aspects of wealth management fee billing and commissions, as well as help maintain accurate and reliable financial records. Lorin has a Master of Business Administration in Accounting from St. Josephs College and has spent the last three years working as a Senior Accountant in Long Island, NY.
Lorin is also a certified Emergency Medical Technician (EMT) and has a Property & Casualty Insurance license. "I'm very excited about joining Valley National and I look forward to using my skills and background to help VNFA grow," she said. Lorin loves spending time with her family. She lives with her husband of eight years and her seven-year-old daughter, as well as four dogs and some chickens.