The show airs on WDIY Wednesday evenings, from 6-7 p.m. The show is hosted by Valley National's Laurie Siebert CPA, CFP®, AEP®. This week Laurie will wrap up her Estate Planning Month series with a discussion about Bringing the Estate Plan Together.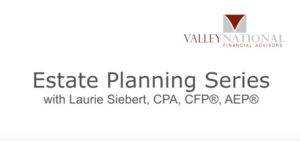 RELATED VIDEOS: 5-Step Approach to Estate Planning
Estate Planning Series Introduction WATCH NOW
Step 1: Identifying Goals WATCH NOW
*NEW* Step 2: Asset Inventory WATCH NOW

COMING SOON – Step 3: Considering Heirs
Subscribe to our YouTube channel to get notifications when the next videos in this series become available.
Laurie will take your calls on this or other topics at 610-758-8810 during the live show, or via yourfinancialchoices.com. Recordings of past shows are available to listen or download at both yourfinancialchoices.com and wdiy.org.