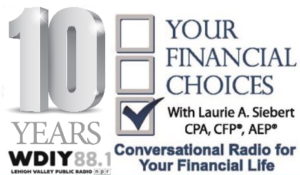 The show airs on WDIY Wednesday evenings, from 6-7 p.m. The show is hosted by Valley National's Laurie Siebert CPA, CFP®, AEP®.
This week is WDIY's annual Fall Membership Drive, which includes a partnership with Valley National Financial Advisors. For every $100 raised during the Membership Drive, VNFA will provide Second Harvest Food Bank of the Lehigh Valley with the funds to deliver 21 meals to families and individuals in need in the Lehigh Valley.
Laurie will be on the air between breaks to address your general financial questions at 610-758-8810 or in advance via yourfinancialchoices.com/contactlaurie.
IN CASE YOU MISSED IT!
Listen to Laurie's discussion last week with Dan Banks addressing Your Medicare Questions.
Recordings of past shows are available to listen or download at both yourfinancialchoices.com and wdiy.org.